Although your stool testing and colonoscopy have been negative, there are many possible causes of diarrhea that have not been excluded.
Among these are such things as:
Irritable bowel syndrome. Some people with irritable bowel syndrome have a type that is called "diarrhea predominant." Stress can worsen symptoms.
A side effect from a drug you may be taking
Celiac disease or another malabsorption disorder. People with malabsorption disorders cannot digest food properly. Undigested fats and carbohydrates carry water out of the bowel.
Bowel inflammation from Crohn's disease
Rare tumors that secrete substances into the blood stream that lead to diarrhea.
Although it may not be the main cause, lactose intolerance may be making the diarrhea worse.
Finding the cause of your diarrhea will require a careful investigation by your doctor. Your doctor will ask:
Whether you can sleep through the night without having a bowel movement. People with irritable bowel syndrome usually don't wake up to have a bowel movement.
Whether you are having a high degree of stress in you life.
Whether you have any pain, fever or weight loss. (These symptoms may suggest Crohn's disease as the cause.
The doctor will also review all the medications you are taking.
You may need a blood test to look for the possibility of celiac disease. You may need a scan of your small intestine to explore the possibility of Crohn's disease.
Other tests exist, but the value and order of testing depends upon the answers to the questions above and what your doctor finds from a physical exam. I suggest you visit a gastroenterologist. This specialist can more fully address your problem and, I hope, solve it.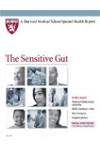 More About this Book
Harvard Medical School The Sensitive Gut
DO YOU EXPERIENCE FREQUENT STOMACHACHES OR EXCESSIVE GAS AFTER EATING? DOES EATING A SIMPLE MEAL LEAVE YOU WITH A FEELING OF HEARTBURN? DO CONSTIPATION AND DIARRHEA PLAGUE YOUR LIFE? If you answered...
Continue Learning about Diarrhea