In this video, Christopher Crowell, MD from StoneSprings Hospital Center explains the different emergency room levels and the process involved with assessing and treating based on those levels.
The differences between emergency room levels are based on a scale from one to five, with one being the most important, says Justin Williams, MD, of Methodist Stone Oak Hospital. Watch this video to learn more about the different levels of urgency.
The differences between emergency room levels are based on a patient's condition or sickness. Learn more from Josh Schuster, RN and Director of the Emergency Department in this video.
Most emergency rooms are based on a five level triage system, with five being the most severe. Watch Pamela Miller, MD, of Fawcett Memorial Hospital, discuss the differences of each level.
There are different levels of emergency rooms (ERs), as well as specialty centers. Here's what you need to know.
There are commonly three levels of ERs. The level and title dictates who they are equipped to treat.
Level 1: Highest level ER, indicating the ability to give definitive, rapid care for all critical emergency situations; usually associated with a teaching hospital. Resources within the hospital (diagnostic and intensive care units) can continue to care for these patients. Level 1 trauma centers have an in-house trauma surgeon and on-call specialists available, as well as an open operating room.
Level 2: The ER can care for most emergencies. All specialties are on-call and available within 60 minutes; usually no residents on staff. Emergency medicine (EM) doctor cares for patient until back-up specialist responds to the request for assistance. In-hospital resources are limited.
Level 3: Treatment by EM doctors. Not all specialties available to come to ER to help. Patient will be stabilized and transported to an appropriate care facility. Trauma patients will be transferred to another hospital that is equipped to handle the trauma.
Recognized specialty centers include:
Stroke center: Possible stroke victims should be taken to a stroke center, not the nearest hospital. Stroke centers are equipped to quickly perform the necessary CT scans and neurological exams so that clot-busting drugs, which can stop or reverse a stroke, are given within three hours of symptoms starting.
Cardiac center/heart center: Possible heart emergencies, such as heart attack, cardiac arrest and chest pain, should be taken to a cardiac center whenever possible. Experienced staff and advanced cardiac resuscitation technology are available here, including cardiac catheterization and hypothermia, both procedures that help save the heart.
Pediatric ER: Some hospitals have dedicated pediatric ERs. Great to know if you have children because the staff and facilities specialize in treating children.
ER with a fast track: This type of ER is a good choice if you're suffering from a less serious illness or injury. Here you're treated separately so there's usually less waiting time.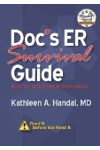 More About this Book
Doc's ER Survival Guide (DocHandal's Guides)
Few people get through life without at least one trip to the emergency room (ER), either as a patient or support person for a family member or friend. Doc's ER Survival Guide is designed to help...
Emergency Departments (ED's or ER's) are categorized into five levels of care. Level I is the highest level and must have immediately available surgical specialists and sub-specialists (surgeons, neurosurgeons, orthopedic surgeons, anesthesiologists, plastic surgeons) in order to handle the most severe and complicated injuries. These ED's are all in large cities, usually have a wide area of service with helicopter transport, and are fully staffed with Emergency Medicine specialists. They are associated with medical schools.

Level II is the ED in most large and medium size hospitals, with surgeons and anesthesiologists on call 24 hours daily, with an ICU and staffed usually with Emergency Medicine specialists. This Level can handle common surgical problems, most auto accidents and almost all illnesses including heart attacks and strokes.

Level III ED's may not have on-call surgeons at all times, but usually can handle surgical problems within 24 hours. These have physicians in the ED 24 hours daily, but the physician may not be an Emergency Medicine specialist. This ED is best at treating and stabilizing the sicker or more severely injured patient for rapid transfer to a Level II or Level I facility.
Level IV and V facilities are found in some states. They are usually in rural areas, may not have a physician at all times and are intended to stabilize a patient for transfer.
Continue Learning about Critical Care
Critical care refers to the treatment given to people who are having life-threatening medical problems requiring the expertise of a team of highly trained medical professionals. Learn more about critical care from our experts.