A caregiver is someone who takes care of another person who is either sick or disabled. A caregiver does those things, and only those things, that the sick or disabled person can no longer do independently. In other words, what a caregiver does depends on just what that other person needs to have done for them. And that may depend on the stage or the severity of the illness or disability. In some cases, and at some stages of a disease, it may involve giving only a little bit of help: steadying the person's gait, combing their hair, helping them to get dressed or helping them to get to the bathroom on time. In other cases it can go much further, to the point, in fact, where the caregiver does virtually everything for the other person.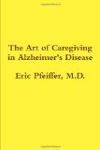 More About this Book
The Art of Caregiving in Alzheimer's Disease
This is an A to Z Guide to the caregiving experience in Alzheimer's disease. It is easy to read, easy to follow. It is authorative, based on thirty years of experieReconce in caring for Alzheimer's...
A caregiver is a broad term for any person who provides assistance for another person who cannot live independently due to developmental, physical, emotional or psychological needs. Examples of caregivers are prevalent in society: Parents are caregivers to children, children are caregivers to elderly parents, physicians and nurses are caregivers to patients. Caregivers may have specialized training and the caregiver role may be paid/for hire or volunteers.
A caregiver is anyone who provides help to another person in need. Usually, the person receiving care has a condition such as dementia, cancer, or brain injury and needs help with basic daily tasks. Caregivers help with many things such as:
Grocery shopping
House cleaning
Cooking
Shopping
Paying bills
Giving medicine
Bathing
Using the toilet
Dressing Eating
People who are not paid to provide care are known as informal caregivers or family caregivers. The most common type of informal caregiving relationship is an adult child caring for an elderly parent. Other types of caregiving relationships include:
Adults caring for other relatives, such as grandparents, siblings, aunts, and uncles
Spouses caring for elderly husbands or wives
Middle-aged parents caring for severely disabled adult children
Adults caring for friends and neighbors
Children caring for a disabled parent or elderly grandparent
This answer is based on source information from the National Women's Health Information Center.
Continue Learning about Caregiving