Why do my elbow joints click when I do push-ups?
Sometimes tendons in joints can snap, articular cartilage or folds in the capsule may give cause a click or snapping sound. The rule of thumb is that if your elbows don't hurt before, during, or after push-ups, it is most likely not serious in nature. If the snapping or popping gets worse or causes pain, evaluation and diagnosis by your physician is in order.
Continue Learning about Joint Health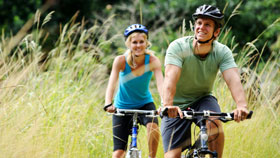 Standing, bending, climbing, walking, running, jumping, lifting a baby -- so many of our daily activities require healthy, functional joints. While some joints (like the knees) provide stability, others (like the wrists, ankles an...
d hips) enable us to move. Learn how to protect your joints from injury and keep your joints healthy for life.
More