The windshield wipers exercise restores normal range of motion and motor control to the hip joint. It also develops lower abdominal strength to stabilize the pelvis during leg movements. Finally, it loosens and stretches the tensor fascia lata (TFL) and rectus femoris.
Common mistakes when doing the windshield wipers exercise for spinal problems include:
If back or hip pain occurs when your foot is raised, the muscles in front of your thighs may be tight. Correct your hip and back compensations while bending your knee. You can also place a pillow or two under your waist and try again. Also, you may not be able to stabilize your pelvis well enough with your lower abdominals. Draw your belly button in toward your spine to better stabilize your pelvis, or stop if you experience pain or pelvic movement.
Back or hip pain that occurs when moving your foot from side to side is usually caused by too much movement in your pelvis. Stabilize it better or decrease the range of motion until it is pain free and/or stabilized.
Cramping hamstrings indicate that your hamstrings are working too hard against tight muscles in the front of your thighs. Try placing a pillow under your stomach or stretch the muscles in the front of your leg.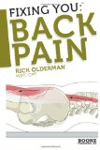 Make sure to keep your back in neutral alignment and do not allow the low back to arch or the shoulders to come off the floor. If your low back arches this indicates a lack of core strength.
Continue Learning about Back Exercises