Most people with asthma also suffer from allergies, says allergy and immunology specialist Dr. Clifford Bassett. Learn how the two are connected by watching this video.
Pollen grains are microscopic particles produced by most plants and transported to other plants of the same species for reproduction. They are the plant equivalent of sperm. Only plants with pollen that is light and not sticky, and can therefore be spread by the wind, are common causes of asthma. Unfortunately this includes many species of trees, grasses, and weeds. In order to successfully transmit their pollen to other members of their species, trees, grasses, and weeds produce enormous amounts of pollen that can be blown upwards of fifty miles and can be detected as high in the air as the Empire State Building. It is these windborne pollens that are reported daily as pollen counts and cause major problems for allergic asthmatics.

Most plants with colorful, perfumed flowers produce heavy, sticky pollen grains that cling to the legs of bees and other insects and generally do not cause major asthma problems. With some flowering plants, their pollen is no threat but they may be allergenic when eaten.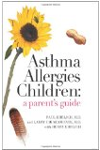 More About this Book
Asthma Allergies Children: A Parent's Guide
Asthma and allergies are at epidemic proportions. It doesn't have to be that way. Two experienced pediatric allergists tell everything a conscientious parent needs to know about these conditions,...
Continue Learning about Asthma Causes