In parts of the Bronx, an area with high air pollution, it is estimated that 20 percent of the children have asthma. Hospitalization rates for asthma in Bronx County and East Harlem are twenty-one times higher than those of affluent parts of the city. Hospitalization rates are 17.3 per 1,000 people and death rates 11 per 100,000, eight times the national average.
At Lincoln Hospital in the South Bronx, there are days when the special asthma room, where patients sit along a wall sucking on bronchial dilators, is chaotic as Lincoln doctors scramble to collect more information. Some patients are cocaine abusers, some are homeless, their medical records scattered at various clinics around the borough and effectively inaccessible.
This neighborhood, Hunts Point, is home to one of the largest wholesale produce markets in the nation, a large waste-disposal site and multiple automobile junkyards. There are 10,000 workers in the area and 10,000 residents. Approximately one million trucks enter each year mostly late at night and in the early morning (as well as the traffic to nearby Yankee Stadium more than eighty times each season). Trucks wait in line to deliver their products while running their engines and exposing the environment to exhaust, both diesel and gasoline. Coal miners kept birds with them to warn of bad air building up. The South Bronx is America's canary because it points to what will happen in the rest of the country, if we allow air quality to deteriorate.
A generation ago, so many buildings were burnt to the ground that the police station, which remained standing, was known as Fort Apache. Today, community pride has rebuilt these neighborhoods, but bad air and asthma are part of the legacy. In addition to vehicle-belched irritants, almost all area residents are affected by the allergens: indoor air pollution, in particular dust mites; cockroach feces and body parts; and rat and mouse urine.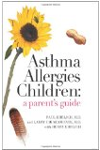 More About this Book
Asthma Allergies Children: A Parent's Guide
Asthma and allergies are at epidemic proportions. It doesn't have to be that way. Two experienced pediatric allergists tell everything a conscientious parent needs to know about these conditions,...
Children who breathe traffic-related air pollution at school are more likely to develop asthma.
A new study out of the University of Southern California shows that kids who breathe traffic-related air pollution at school are more likely to develop asthma, even after taking into account levels of air pollution at their homes. The study, published in the journal Environmental Health Perspectives not only adds credence to the growing body of research suggesting a link between asthma and traffic, but it also shows just how large a role schools play in the health of students.
Asthma is one of the most common childhood diseases in the United States. The rates among school-aged kids have been steadily increasing for years. Asthma is a lung disease with symptoms that include wheezing, coughing, shortness of breath and difficulty breathing—symptoms that lead to absences from school and the inability to participate in physical education or other exercise programs.
To determine the link between asthma and traffic-related pollution, researchers followed almost 2,500 asthma-free children from the age of 6 years old, those just entering either kindergarten or first grade. The children were from 45 different schools in 13 communities in Southern California.
Outdoor traffic-related air pollutants were measured continuously at central neighborhood locations near the schools during the three-year study. The child's exposure to traffic-related pollution at home and school were estimated. Researchers gathered family health history, housing, smoking and other personal information from questionnaires given at the start of the study and once a year after that.
During the study, 120 children developed asthma. Researchers found that pollution exposure at school may be higher because of deeper, more frequent breathing during exercise and recess. Also, schools may have higher pollution levels in mornings and evenings when buses and cars congregate to drop off and pick up kids.
This is more compelling evidence for the need to ban bus (and car) idling at schools. Talk to your school administrator about putting a no-idling policy in place at your child's school.
Continue Learning about Asthma Causes