Asthma can affect a child's performance in school by causing the child to miss school. Asthma is one of the leading causes of school absenteeism. Missing school negatively affects school performance, so keeping asthma well-controlled is an important part of keeping these children in school and helping them to perform optimally in school.
Asthma can affect a child's performance in school in the following ways:
Kids with poorly controlled asthma show lower quality schoolwork and overall lower academic performance.
Kids with asthma are more likely to have behavior problems in school.
Kids with asthma miss more school days than kids without asthma. Kids with more poorly controlled asthma miss even more days.
Kids with poorly controlled asthma often have more sleep issues, which can also cause school and behavior problems.
Asthma accounts for over 10 million missed school days per year, making it the leading cause of school absenteeism from chronic illness. The nights of interrupted sleep, limitations on activity and disruption of routines take a toll on concentration in class, homework quality, and general quality of life.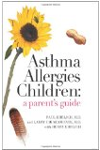 More About this Book
Asthma Allergies Children: A Parent's Guide
Asthma and allergies are at epidemic proportions. It doesn't have to be that way. Two experienced pediatric allergists tell everything a conscientious parent needs to know about these conditions,...
Continue Learning about Asthma & Children