Acne is a condition of the skin. In general, blood tests are not usually indicated for people with acne unless certain conditions related to hormonal imbalance are suspected. In these cases, there may be excessive androgen production from either the adrenal gland or the ovary. In these cases, the workup often includes the measurement of selective androgens in the blood that are produced by these glands.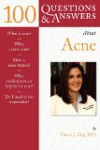 More About this Book
100 Questions & Answers About Acne
100 Questions and Answers About Acne provides you with all the information you need to manage your complexion problems. Written by Dr. Doris J. Day, a world-class expert in the field, this clearly...
Continue Learning about Acne