What You Need to Know About Ocean Trash in Hawaii
Debris in the Pacific is harmful to native species, the environment and human health.
Medically reviewed in July 2022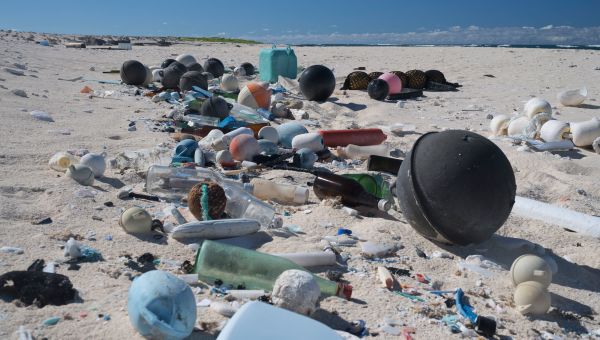 1 / 6
Photo credit: NOAA Fisheries, Steven Gnam
Thousands of pounds of discarded trash have been collected from the pristine beaches of several atolls in the Northwestern Hawaiian Islands. The cleanup was conducted over the course of 41 days, from September 19 to October 29, 2018, by a team of 18 divers from the National Oceanic and Atmospheric Administration (NOAA) and the University of Hawaii's Joint Institute for Marine and Atmospheric Research.
The plastic and trash pickup was a partnership between NOAA, the National Fish and Wildlife Foundation, the U.S. Fish and Wildlife Service, Midway Atoll National Wildlife Refuge, and Hawaii's Nets-to-Energy Program. Their efforts were focused on the Northwestern Hawaiian Islands that make up the Papahanaumokuakea Marine National Monument (PMNM), one of the largest marine conservation areas in the world. The 2018 mission was one of many over the last several years. Kevin O'Brien, NOAA PIFSC Marine Debris Project Lead explains, "we're able to do a big effort every three years, and then for the last couple years we've been able to squeeze in smaller efforts at Midway [Atoll], in between."
Since 1996, NOAA Fisheries teams have collected more than two million pounds of marine debris from PMNM, including the 164,917 pounds collected in 2018 alone. The 2018 haul is equivalent to 45 mid-size cars or a space shuttle.
So, where does all of this trash come from and how does it make its way to Hawaii? More importantly, how does it impact our fragile ecosystems and what can you do to help? We've got some answers to these tough questions. Keep reading on for information about marine debris and how it affects Hawaii. 2 / 6
Nothing but nets
Photo credit: NOAA Fisheries, Steven Gnam
Fishing may have been integral to Native Hawaiians as it continues to be for residents today, but modern fishing techniques can take a toll on the environment. Fishing nets make up a significant portion of the debris collected at PMNM each year. According to O'Brien, "a paper that our group published in 2007 found that 57 tons of derelict fishing nets accumulate in the monument every year."
In addition to fishing nets, buoys also accumulate, as well as a variety of plastic items, such as lighters, plastic bottles, laundry baskets, life preservers and more. These humanmade items are littering the beaches of the most remote island chain in the world.
"In the Northwestern Hawaiian Islands," says O'Brien, "most of the debris that we find, it's had to float a really long way to get there. And so, we almost never find those six-pack rings, or plastic bags or cigarette butts or a lot of those things that you might find closer to large population centers." The trash they do collect is often larger, more robust plastic products and fishing nets. 3 / 6
How does ocean trash get to Hawaii?
Photo credit: NOAA Fisheries, Steven Gnam
The Northwestern Hawaiian Islands are particularly well situated to collect ocean trash. "The Hawaiian Islands are the most remote island chain in the world, yet the beaches and reefs are littered with marine debris from around the globe. Centrally located in the largest ocean gyre, the North Pacific Gyre, the small islands and atolls of the PMNM filter out marine debris," according to a NOAA press release.
A gyre is a large system of rotating ocean currents. It's important to understand, however, that currents move pollution and debris—not just water. In other words, the North Pacific Gyre is a circular ocean current that acts like a conveyor belt, dumping floating trash into the PMNM. So, these islands are essentially a "dead end" for garbage.
But how does this trash get into the ocean in the first place? Refuse ends up into the ocean in a number of ways. One study suggests that more than 80 percent of plastics that enter the ocean annually are from in-land sources. O'Brien suggests that human littering, national disasters such as flooding events, which lead to waste runoff, and a lack of waste disposal infrastructure in developing parts of the world are just a few of the culprits contributing to marine pollution. 4 / 6
Plastics threaten native species
Photo credit: NOAA Fisheries, Steven Gnam
Hawaii is home to a number of endangered species, many of whom use the Northwestern Pacific Islands as breeding grounds. The coral reefs alone in PMNM are home to over 7,000 marine species, some of which are completely unique to the area. "Up there you're talking about critical habitat for the Hawaiian monk seal, for nesting green sea turtles, for all number or manner of sea birds," says O'Brien. He explains the cleanups are an effort to "mitigate the threats for entanglement in the derelict fishing nets for the seals and turtles." Further, cleanups help to prevent sea birds from ingesting harmful plastics and help to clear nesting grounds for sea turtles.
Still, the trash builds up. Endangered Hawaiian monk seals alone have one of the highest entanglement rates of any pinniped (seal or seal lion) species, with pups entangled more often than adults. It's unclear what the impact to endangered native species like the Hawaiian monk seal would be if ocean debris was allowed to build in PMNM without regular cleanups. 5 / 6
Plastic ocean
Photo credit: NOAA Fisheries, Steven Gnam
Plastics, in particular, are detrimental to our oceans. "It doesn't really break down very well," says O'Brien. "It breaks into smaller and smaller pieces, but it doesn't really go away, it just breaks into smaller pieces which just means that smaller animals can ingest it."
Microplastics are the tiny particles (about the size of a seasame seed or smaller) that larger plastic items break down to. These plastics can contain harmful chemicals. O'Brien explains, "The longer a piece of plastic stays in the ocean, the more toxic it becomes. These plastics become a sink or magnet for toxins like heavy metals, PCBs and other persistent organic pollutants. So if an organism in the ocean eats a piece of plastic that has been floating around for many years, it's bound to be pretty toxic."
Organisms throughout the marine foodchain may consume microplastics, which could lead to human consumption through eating seafood. Microplastics are small enough to pass through water filtration systems so it is very difficult to remove them from waterways once they are in them.
Complicating matters, new research, spearheaded by Sarah-Jeanne Royer, PhD, at the University of Hawaii's International Pacific Research Center also suggests that plastics emit greenhouse gases when exposed to prolonged sunlight. Dr. Royer's paper identified plastics as a source of methane and ethylene gases, both of which are known to contribute to climate change. It seems clear that plastics left in the ocean could have devastating long-term environmental consequences. 6 / 6
Protecting our aina
Photo credit: Blue Zones Project Kapolei/Ewa Team
Protecting the land starts at home. "I think, obviously measures to reduce the amount of plastics we use in our daily lives are pretty important for solving the problem," says O'Brien. Being a conscientious consumer can certainly help, as well as supporting local efforts like the Plastic Free Hawaii initiative from the Kokua Hawaii Foundation. To get started in changing your plastic consumption, consider limiting or eliminating using single-use plastics such as water bottles and make an effort to always recycle your plastics.
You can also participate in one of Hawaii's many beach cleanup programs, including those done in conjunction between Blue Zones Hawaii and 808 Cleanups. Keikilani Uehara from Blue Zones Hawaii explains, "it's important to us to maintain and improve the health of our beaches because our native ecosystem is deteriorating at an alarming rate. Native fish and plant populations that are either indigenous or endemic to Hawaii are dwindling, along with the cultural practices that Native Hawaiians used to foster sustainability."
Uehara also notes that Blue Zones does stream cleanups to help keep trash from making its way into the oceans from stream beds. "Beach clean-ups are a last resort," she says. "What we hope to foster here is a mountain-to-ocean approach to land stewardship so that the trash isn't even making it to the shoreline and that the beach is able to heal itself." Replay Slideshow