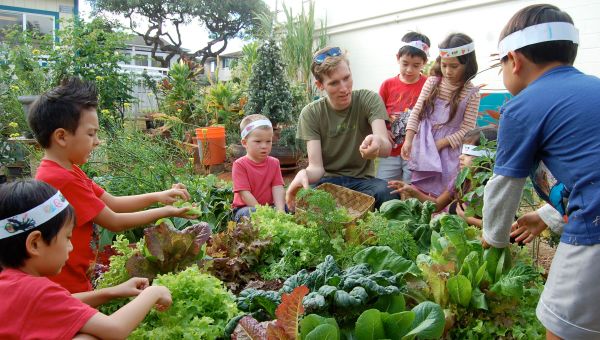 Sharecare and HMSA have teamed up to donate up to $100,000 to the Kōkua Hawaiʻi Foundation
'Āina is central to Hawaiian life. It's the ground beneath our feet and the soil that nurtures kalo, or taro, the older brother to the Hawaiian people, to grow. That's why protecting the land in an ever-changing environment is pono, and something the Kōkua Hawaiʻi Foundation (KHF) works towards daily.
Big names, bigger hearts
"Kōkua Hawai'i Foundation was founded 2003 by Kim and Jack Johnson," explains Executive Director Natalie McKinney. Its goal: "Supporting environmental education in Hawaii schools and communities."
It all began with the 3R's School Recycling Program in local schools and has grown to five major environmental and educational initiatives:
ʻĀINA in Schools is a farm to school program that connects students with the land, waters and foods of Hawaiʻi. It supports garden, composting and nutrition lessons in schools and also promotes the use of local produce in school meals and snacks.
Field Trip Grants get kids out of the classroom and into nature to experience hands-on learning during environmental field trips.
Mini Grants fund classroom projects that aid in environmental education and stewardship.
3R's School Recycling Program encourages students to use and educate others about the 3R's: reduce-reuse-recycle.
Plastic Free Hawai'i provides education about the harms of single-use plastic items and does community engagement through beach cleanups, film screenings and student trainings to deliver Plastic Free Hawai'i lessons. It also works to influence legislation to reduce single-use plastics, such as the plastic bag ban.
In addition to these programs, Johnson has headlined at seven different Kōkua Festivals since 2004. These concerts have taken place at the Waikiki Shell and raised funds for KHF. They've also brought in local groups from other environmental nonprofits to expose concert-goers to more ways they can get involved with the environment and sustainable living.
Planting community roots
Today KHF serves thousands of Hawaii's keiki and greater population through its far-reaching programs. The goal is to foster and inspire a lifelong love of nature, educate about food sourcing and healthy eating, and make tangible and lasting changes to improve the environment.
"One of our main goals is for kids to fall in love with nature so they'll take care of it," says McKinney.
The ʻĀINA in Schools initiative is particularly beneficial as it introduces students to growing their own food and food preparation with demonstrations from local chefs such as Ed Kenney, who also serves on the board for KHF. Hawaii is heavily reliant on shipped-in food, so teaching students how to produce their own food helps improve self-sufficiency.
All of KHF's programs are community-based efforts that strengthen bonds while educating students and adults about environmental causes. Most of the programs are centered on Oahu, but they do extend state-wide to support a wide range of Hawaii residents, teachers and students.
Sharecare and HMSA: Teaming up to do good
Giving feels good, and you can give to KHF without spending a penny or leaving your house. Sharecare has partnered with HMSA to donate up to $100,000 to KHF, but we need your help. For each new Hawaii-based user who creates a Sharecare account and takes the RealAge Test, Sharecare will donate $5 across five nonprofits, including KHF. Then, using the app, track your green days. Each green day earned by Hawaii users until the end of November 2018, is another $1 donated to the charities, up to $30 in one month. It's a great opportunity to monitor and improve your own health while giving back to the community.
Medically reviewed in September 2018.