5 Ways Nature Keeps You Healthy, According to Research
The great outdoors is great for your health.
Medically reviewed in September 2020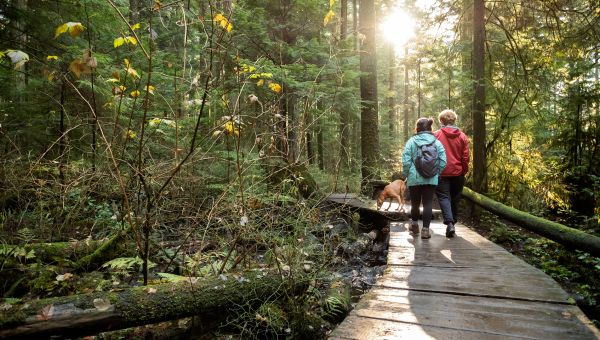 1 / 6
Poet and writer Ralph Waldo Emerson believed nature was good for the soul: "The happiest man is he who learns from nature the lesson of worship." But spending time outdoors is also good for the body and mind, in a number of different ways. From your disease risk to your mental well-being, here's how visiting parks and other green spaces can influence your health. 2 / 6
LOWER RATES OF OBESITY
Some research suggests that access to parks is associated with a lower obesity rate. For example, scientists found that United States counties with more green space had fewer obese people in one 2015 study presented at the Southern Agricultural Economics Association's annual meeting. And in a 2020 review and meta-analysis of studies in the journal Obesity, more than half of the research examined found a link between more green space and less obesity. 3 / 6
DECREASED DIABETES
Park access is also correlated with lower rates of type 2 diabetes. In one 2018 review published in the International Journal of Environmental Research and Public Health, scientists found that higher levels of walkability and green space in one's surrounding area were linked to a decreased risk of the condition.
This follows a 2013 study of about 267,000 Australians published in the journal Diabetes Care, in which researchers discovered that the incidence of type 2 diabetes was significantly lower for people in neighborhoods with more green space compared to those with less green space. The rate was 9.1 percent for people in areas with 0 to 20 percent green space, and 8 percent for people in neighborhoods with over 40 percent. 4 / 6
LESS HEART DISEASE
Communities with more parks may have lower rates of heart attacks and high blood pressure, as well. According to a 2015 review of studies published in the International Journal of Environmental Research and Public Health, neighborhoods with shade from trees (among other factors) had fewer residents with high blood pressure. That's not all. One study in the review found more green space meant fewer deaths from circulatory disease, while another suggested that as trees were cut down in a neighborhood, instances of heart disease rose. 5 / 6
BETTER FOCUS AND ATTENTION
Even just gazing at nature may improve your focus, suggests one 2015 study in Journal of Environmental Psychology. Researchers found that a 40-second break to look at a roof that was transformed into a natural space increased university students' attention spans, versus looking at a bare concrete roof. 6 / 6
IMPROVED MENTAL HEALTH
Nature can boost your mood, too. In a 2015 study published in the journal PNAS, a 90-minute walk through a park was found to reduce the tendency to dwell on negative thoughts, which can be a factor in depression. And while more research on children and teenagers is needed, engaging with nature may also benefit kids' mental health, according to in a 2018 review published in the Journal of Epidemiology and Community Health. It's just another good reason to take the whole family for a walk in the woods. Replay Slideshow
Slideshow sources
YN Luo, WZ Huang, et al. "Greenspace with overweight and obesity: A systematic review and meta‐analysis of epidemiological studies up to 2020." Obesity. Published online July 16, 2020.
T Astell-Burt, X Feng, et al. "Is neighbourhood green space associated with a lower risk of Type 2 Diabetes Mellitus? Evidence from 267,072 Australians." Diabetes Care. September 2013; DC_131325.
T Dendup, X Feng, et al. "Environmental Risk Factors for Developing Type 2 Diabetes Mellitus: A Systematic Review." International Journal of Environmental Research and Public Health. 2018, 15(1), 78.
V Jennings, CJ Gaither. "Approaching environmental health disparities and green spaces: an ecosystem services perspective." International Journal of Environmental Research and Public Health. 12(2), 1952–1968. February 10, 2015.
JM Smith, LB Alloy. "A roadmap to rumination: a review of the definition, assessment, and conceptualization of this multifaceted construct." Clinical Psychology Review. 29(2), 116–128. November 5, 2008.
GN Bratman, JP Hamilton, et al. "Nature experience reduces rumination and subgenual prefrontal cortex activation." PNAS. July 14, 2015 112 (28) 8567-8572. First published June 29, 2015.
K Riihimaki, M Vuorilehto. "Rumination and primary care depression." European Psychiatry. Volume 33, Supplement, March 2016, Page S422.
S Tillmann, D Tobin, et al. "Mental health benefits of interactions with nature in children and teenagers: a systematic review." Journal of Epidemiology and Community Health. October 2018;72(10):958-966.