pH refers to the vagina's acidity level. A vaginal pH of 3.5-4.5 indicates that there is a perfect amount of good bacteria (lactobacilli), and no overgrowth of the bad bacteria that can cause odor, irritation and sometimes infection. What makes pH rise higher than 4.5? There are a surprising number of triggers that can upset the vaginal ecosystem:
Menstruation: Blood has a pH of 7.4, so during your period, vaginal pH becomes elevated.
Tampons: Since they retain the fluids that cause pH to increase, tampons can contribute to the problem.
Intercourse: The pH of semen is 7.1 to 8.
Douching and cleansers: Any vaginal infusion of water or other fluids can affect vaginal pH. The pH of water is 7, and fragrances and perfumes can also irritate the vagina.
Menopause or pregnancy: These are times where hormones fluctuate, which is associated with elevated pH.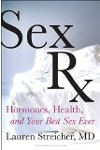 More About this Book
Sex Rx: Hormones, Health, and Your Best Sex Ever
For millions of women in America, sex isn't always pleasurable or even possible. Instead, sex has become a low priority as they navigate marriage, motherhood, and work . . . not to mention cope with chronic stress and lack of sleep. Throw in the natural fluctuations in hormone levels that all women experience throughout their lives and it's not surprising that sex can become, well, a little less sexy. Additionally, common gynecological problems can make sex uncomfortable, and medical issues can cause it to be downright painful.Dr. Lauren Streicher, a leading women's sexual health expert, offers women the courage, vocabulary, and knowledge to identify and solve problems in the bedroom, for a wide range of issues—from flagging libido, vaginal dryness, and sex after menopause, to hormone supplements and the effects of medication, Sex Rx offers a wealth of knowledge, along with a good dose of humor and plenty of encouragement, so that every woman, no matter what personal challenges she has, can make having great sex a part of their lives forever.Sex Rx was originally published in hardcover as Love Sex Again.
Vaginal infections are a very common cause for the pH of the vagina to rise. The most common vaginal infection in my practice (and in all doctor's offices) is Bacterial Vaginosis which causes the normal vaginal pH to rise to above 4.5. Odor usually occurs with Bacterial Vaginosis. It will be necessary to receive medical treatment for Bacterial Vaginosis, so see your physician.
Continue Learning about Yeast Infections