To warm-up for kayaking, use a combination of foam rolling followed by dynamic stretching. Foam rolling is a form of self-massage in which you apply pressure with a foam roller to tight areas of your muscle. This breaks up adhesions, or "knots", in the muscle and relaxes the muscle to allow for greater range of motion. Start your warm-up with foam rolling any tight areas like the side of the middle back and lats. Apply pressure on the tender spots in the muscle for 30 seconds. Then, perform dynamic flexibility exercises using 1-3 sets of 10 repetitions and a fast tempo. Dynamic flexibility exercises use the momentum of the movement to take the joint through a full range of motion. This helps prepare the body for the movements used during skiing and raises body temperature. Dynamic flexibility exercises are preferable to static stretching when you need your muscles to achieve a high level of performance soon after your warm-up. Examples of dynamic flexibility stretches include be push-ups with rotation and medicine ball chop and lifts. To perform the medicine ball lift and chop, start with feet hip-width apart and core activated by drawing-in stomach. Hold the medicine ball with both hands, arms extended. Lift the ball from a low position at the side to a high position on the opposite side. Pivot the foot and turn the hips during the movement.

Continue Learning about Watersports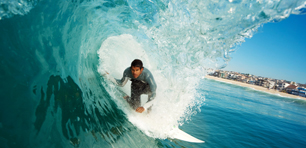 Watersports (surfing, rowing, canoeing) rely on muscular strength, endurance, and resistance training. Conditioning is important because these sports cause the body to expend a vast amount of energy. Watersports help burn calories ...
and improve cardio strength.
More