The core, legs, and lats (latissimus dorsi) are all used for swimming and for throwing in water polo. However, water polo is a total-body sport, so you need to work all the major muscles groups to achieve the best performance results. Good exercise choices for the core include cable rotations and back extensions. To perform cable rotations, set a cable column to chest height and grab the handle with both hands. Engage the core by drawing-in the stomach to spine. Pull the handle across the body with the arms extended and pivot the foot that is opposite of the side you are turning toward. Make sure your head, shoulders, and hips all turn during the movement. Slowly return to the starting position and repeat movement. For the legs, perform exercises like lunges and leg curls. To work the lats, seated cable rows and pull-ups are good choices.
Continue Learning about Watersports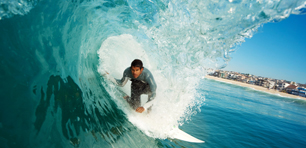 Watersports (surfing, rowing, canoeing) rely on muscular strength, endurance, and resistance training. Conditioning is important because these sports cause the body to expend a vast amount of energy. Watersports help burn calories ...
and improve cardio strength.
More