Power training that uses a combination of strength exercises supersetted with power exercises for the back and legs is a great way to build your stroke power for rowing. To perform this type of training you should perform 1-5 repetitions of a strength exercise followed immediately by 8-10 repetitions of a power exercise using an explosive tempo and up to 10% of bodyweight or 30%-45% of your one repetition maximum; this makes up one set. Perform 3-5 sets of this combination with 3-5 minutes of rest in between sets. Peform the strength exercise in a stable position (using two legs, leg press machine, etc.) as this allows more weight to be used. Some example supersets include low cable rows (4 sets of 5 repetitions) supersetted with 10 medicine ball slams and bar squats (4 sets of 5 repetitions) supersetted with 10 repetitions of squat jumps. To do medicine ball slams, use a ball that is up to 10% of your weight and start with the ball overhead. Explosively throw the ball down using the arms, lats, and abs. Ensure that the arms follow through the throw and bend the knees at the end of the movement. Catch the ball when it bounces up and repeat the movement. To perform squat jumps, begin in a squat position and the explosively jump into the air. Land softly and repeat the movement.

Continue Learning about Watersports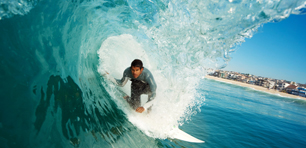 Watersports (surfing, rowing, canoeing) rely on muscular strength, endurance, and resistance training. Conditioning is important because these sports cause the body to expend a vast amount of energy. Watersports help burn calories ...
and improve cardio strength.
More