This is the time to physically and mentally recondition. Your off-season program should begin with functional movement testing in order to address any movement impairments caused by your strenuous season. This is also a great time to spend a few months improving flexibility and stabilization at the beginning, followed by strength and power towards the end. In order for you to improve flexibility and balance, perform foam rolling on all chronically tight muscles along with exercises such as planks, cobras, and single leg squats. For strength and power goals, try pushups, ball shoulder presses, and cleans, along with plyometric work such as jumping and bounding. Keep in mind core, balance, and plyometric work should also be performed during these phases.

Continue Learning about Volleyball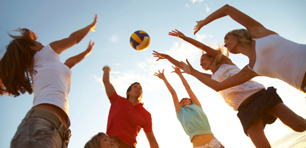 Volleyball is a team sport that involves cardiovascular endurance, agility, and hand-eye-coordination. Lateral movements, foot speed, and hip rotation are all important skills to possess. Proper elbow and knee-pads can help limit ...
injuries.
More