Volleyball players need to incorporate both heavy strength training and power training movements. Examples of these exercises are squats, kettle bell swings, various lunges, shoulder presses, and plyometrics. You may also include Olympic style movements such as the hang clean and snatch. You will need to train your anaerobic energy system by performing various interval training and or conditioning circuits. Include recovery techniques that consist of soft tissue work, hot and cold tubs, stretching, and massages after each game or workout.
In-season programs should be performed with the primary intention of maintaining the performance goals you accomplished during the off-season. Maintenance of current strength is the most important factor in your training schedule. Make sure you always perform core and balance exercises along with some volleyball-specific strength exercises. Then, depending on how tough practice is, and whether or not you have a tournament, you can mix in some plyometric exercises at a low to moderate intensity. If any particular day involves a light practice consisting mostly of passing lines and skill development, do your performance training program on this day. An example of your training on this day would include foam rolling and static stretching your tight muscles, followed by a general warm-up on a bike or treadmill. Then pick two or three core stability exercises such as planks coupled with a Swiss ball crunch with rotation. Following this, choose one or two balance exercises such as a single-leg squat or a single-leg excursion (standing on one leg then moving the free leg to the front, side then back). At this point you are ready for a few strength exercises involving all major muscle groups. Good strength exercises for volleyball include a dumbbell squat (holding dumbbells at the side) followed immediately by a side lunge to balance. The side lunge is a great time to add some volleyball characteristics such as a passing motion with the arms. Next, perform a push-up and go directly to a Swiss ball chest press. Following this, perform a latissimus dorsi pull-down followed by a single-arm row using tubing. Lastly, perform a standing dumbbell shoulder press (palms facing each other) followed directly by a single-leg lateral dumbbell raise. Repeat the foam rolling exercises completed at the beginning of the training session. This workout should take you no more than fifty to sixty minutes including the warm-up and cool-down.
Continue Learning about Volleyball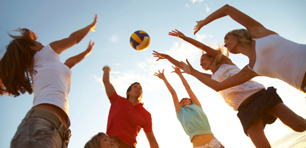 Volleyball is a team sport that involves cardiovascular endurance, agility, and hand-eye-coordination. Lateral movements, foot speed, and hip rotation are all important skills to possess. Proper elbow and knee-pads can help limit ...
injuries.
More