Speed and agility drills should be practiced throughout the entire volleyball performance program. Drills such as ladders, dot drill mat, and suicides are great for starting and stopping speed, coordination, reaction time, and cardiorespiratory conditioning. Focus on good technique during movement in order to decrease the risk of injury. Perform these exercises early in the workouts or on separate training days.
Continue Learning about Volleyball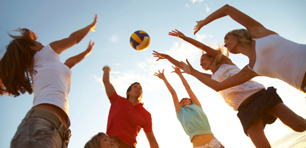 Volleyball is a team sport that involves cardiovascular endurance, agility, and hand-eye-coordination. Lateral movements, foot speed, and hip rotation are all important skills to possess. Proper elbow and knee-pads can help limit ...
injuries.
More