A great level change exercises is a lateral lunge to balance with passing mechanics. Standing on one leg, lunge to the side (sitting down on the hip). As you reach the lunge position, extend the arms as if you were catching a low ball in order to pass it. Performing this exercise two to three sets, for ten to twelve repetitions, three days per week will prepare you for situations that require a player to lunge in, reach, and save a play.
Continue Learning about Volleyball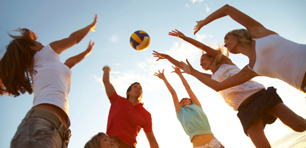 Volleyball is a team sport that involves cardiovascular endurance, agility, and hand-eye-coordination. Lateral movements, foot speed, and hip rotation are all important skills to possess. Proper elbow and knee-pads can help limit ...
injuries.
More