Although strengthening the legs will help with your jump height, there are several other components you should focus on as well. Exercises that increase the strength of your core muscles will allow you to stabilize the trunk and hips, resulting in more efficient movement. You should also strengthen the muscles of the upper body such as the chest, back, and shoulders, as this will help you produce more power while using the arms to propel you into the air.

Continue Learning about Volleyball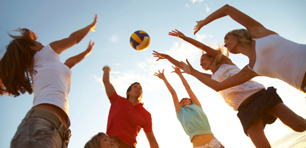 Volleyball is a team sport that involves cardiovascular endurance, agility, and hand-eye-coordination. Lateral movements, foot speed, and hip rotation are all important skills to possess. Proper elbow and knee-pads can help limit ...
injuries.
More