First-step quickness is a term used to describe the first step made at the onset of a play or cue and how quickly this step is initiated. For example, a serve is made and the defender attacks; the athlete's initial reaction to the ball and how rapidly they get to it represents first-step quickness. Using an agility ball (a four-sided rubber ball) with a partner is a great way you can improve your first-step quickness. Facing your partner in an athletic stance approximately three to four feet apart, toss the ball into the air. As the ball hits the ground it will bounce unpredictably, making it difficult to prepare for, much like an explosive serve from an opponent. This uncertainty forces you to remain light on your feet and has shown to improve the time it takes you to react.
Continue Learning about Volleyball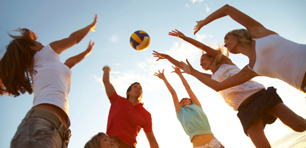 Volleyball is a team sport that involves cardiovascular endurance, agility, and hand-eye-coordination. Lateral movements, foot speed, and hip rotation are all important skills to possess. Proper elbow and knee-pads can help limit ...
injuries.
More