Absolutely. Core exercises are usually the first thing that is missing from an athlete's program. Improving your core strength will improve control of the entire body. For example, engaging the core effectively during a serve and/ or hitting the ball allows for more control over the trunk and hips. This will allow you to produce more power when jumping, transferring energy from the ground up through the hips, trunk, and shoulder to contacting the ball resulting in a solid more explosive hit. Perform core exercises near the beginning of your workouts so that it is activated and properly engaged throughout your training.
Continue Learning about Volleyball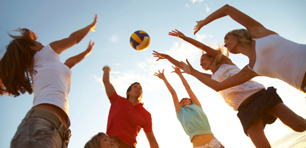 Volleyball is a team sport that involves cardiovascular endurance, agility, and hand-eye-coordination. Lateral movements, foot speed, and hip rotation are all important skills to possess. Proper elbow and knee-pads can help limit ...
injuries.
More