I suggest performing your cardiovascular training (high intensities) on off practice days. Performing these high intensities before practice may hinder your endurance as well as skill level. Therefore, you should try to avoid performing cardiovascular training protocols on practice days. On the other hand, lighter aerobic work should be fine on practice days. Remember, these intensities are lower and require less energy such as walking or jogging on a treadmill while talking to a friend or teammate.
Continue Learning about Volleyball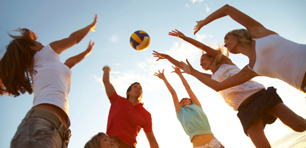 Volleyball is a team sport that involves cardiovascular endurance, agility, and hand-eye-coordination. Lateral movements, foot speed, and hip rotation are all important skills to possess. Proper elbow and knee-pads can help limit ...
injuries.
More