Neck extension exercise is done in the standing position and with movement of bringing the chin to the ceiling and eyes to the sky. This exercise can be made more difficult by performing while lying on your stomach and using gravity as resistance. To make the exercise more difficult try performing the movement against some type of resistance.
For cervical spine extension, sit in an erect and upright posture looking straight ahead (neutral position), and slowly and in a very controlled manner, allow your head to move backward. At the same time, gently elevate your chin as if you are looking up at the ceiling. Move as far as you comfortably can, and as soon as you feel any compression or pinching at the base of your head or the base of your neck, stop and slowly come back to the neutral position. Complete five to seven repetitions, each time trying to notice a slight overall increase in the ease and range of the movement. If light-headedness or dizziness occurs, you may be moving too fast, and you will have to slow the routine. If these symptoms occur with very slow and gentle movement, discontinue the exercise.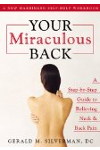 Continue Learning about Types Of Exercise Programs


From walking to engaging in team sports, exercise comes in many forms. Aerobics, stretching, weightlifting and endurance training are some of the types of exercise that produce health benefits and enjoyment. With each type of exer...
cise, proper technique and posture is critical in preventing injuries while achieving maximum health results.
More