There is not one, single exercise you can do to get rid of your tummy. The best thing to do is to put together a comprehensive workout program that includes cardiorespiratory, flexibility, and resistance training. Your workouts should carry a moderate to intense intensity. The more intense your workout the more calories you'll burn. To lose your bulging tummy, you'll have to burn more calories than you take in.
In general, a bulging tummy can be associated with both intraperitoneal fat versus external fat and muscle diastasis. A board-certified plastic surgeon will be able to evaluate your abdominal wall to determine whether you have both or external fat only. External fat can be removed through direct liposuctioning. If there is skin laxity and external fat, then abdominoplasty procedure may be performed. Internal fat that is found around the liver, spleen, and mesentery and omentum cannot be removed through surgical technique. This requires diet and exercise and may be genetic. Exercise may help to remove some of the external fat, as well as some internal fat, and patients should maintain their baseline weight before undergoing elective abdominoplasty or tummy tuck surgery.
There is no single exercise we can do to get rid of that "kangaroo pouch." The only way of reducing abdominal fat is to do a general well-rounded strength program, get enough aerobic exercise to burn calories and control body weight, and eat sensibly. Research studies have shown reductions in abdominal fat with both strength and aerobic exercise.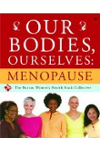 More About this Book
Our Bodies, Ourselves: Menopause
FROM THE EDITORS OF THE CLASSIC "BIBLE OF WOMEN'S HEALTH," A TRUSTWORTHY, UP-TO-DATE GUIDE TO HELP EVERY WOMAN NAVIGATE THE MENOPAUSE TRANSITION For decades, millions of women have relied on Our...
Continue Learning about Types Of Exercise Programs


From walking to engaging in team sports, exercise comes in many forms. Aerobics, stretching, weightlifting and endurance training are some of the types of exercise that produce health benefits and enjoyment. With each type of exer...
cise, proper technique and posture is critical in preventing injuries while achieving maximum health results.
More