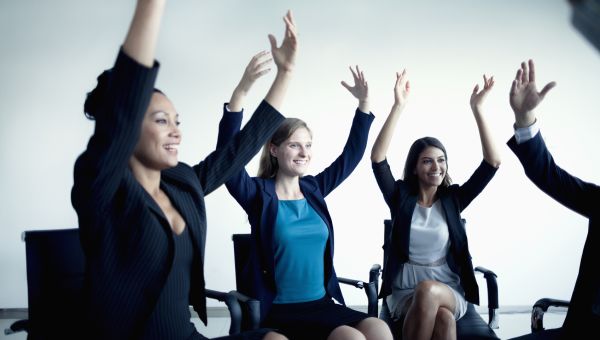 For the ultimate excuse-busting exercise routine, try this easy no-shower-no-change-of-clothes-required workout, courtesy of Good Housekeeping's Drop 5 Pounds: The Small Changes, Big Results Diet.
Start with a 15-minute walk. Afterward, climb stairs for 5 minutes. Then, do just 4 minutes of wall push-ups and chair squats. Finish with a 1-minute stretch.
Excuse-Proof Exercise
It's a total "anytime, anywhere" workout that covers all of the major muscle groups and has a healthy mix of cardio and body building to boot. Best of all, it doesn't require any special equipment or clothes, and you're done in just 25 minutes. Here's Good Housekeeping's breakdown on each step:
Walk anywhere. Pace the halls, circle the block, or walk in place for 15 minutes. This will get your blood pumping and your metabolism fired up. And, as a bonus, it will burn about 60 calories. (Here are five ways to turn walking into a lifelong habit.)
Stair-step it. Climbing stairs for 5 minutes will tone and tighten your leg muscles.
Push the wall. Stand 2 feet away from the wall, feet shoulder-width apart. While keeping your back straight, place your palms against the wall, and lean your body in for a count of three, then push back for a count of three. Repeat for 2 minutes
Pop a squat. Choose a chair that creates a 90-degree angle in your legs when seated. Stand with the chair behind you, feet shoulder-width apart, arms straight out in front of you. Slowly lower yourself into a seated position, sit for a count of three, then stand up slowly. Repeat for 2 minutes.
Touch down. Stand with your arms straight out at your sides and your feet hip-width apart. Bending at the waist, reach one hand toward the opposite foot. Return to a standing position. Do for 1 minute, alternating sides.