Prior to exercise consider the following:
What is your current fitness level? Are you active or are you inactive?
Do you have any health history to be concerned with, i.e. high blood pressure, high cholesterol?
Have you ever had an injury before? A broken bone, back pain, etc?
Have you ever exercised before? If not, consider seeking help from a certified professional so you do not injury yourself.
These questions are just a few to ask but will assist you prior to starting exercise. The best advice I can give would be to meet with a trainer to get some advice. If you do not belong to a fitness center then be sure to purchase a pair of shoes with good support and go out and start walking. As you build your fitness level and get into a routine then you will be able to gage your fitness level a little better and be able to figure out how hard you can push yourself.
If you have concerns about your health, or if you are overweight, have hypertension, diabetes, or a family history of heart disease, you probably should check with your physician, and he or she will likely advise you to "get a little more exercise."

Certainly, if you've had a previous heart attack, or any symptoms that could indicate heart disease such as chest discomfort, shoulder or arm pains, shortness of breath, palpitations, or undue fatigue, a talk with your physician is in order before you embark on an exercise program, and your physician's recommendation will probably be that you "really ought to get some exercise."

Your physician might have you take an exercise stress test that can reveal some types of heart disease, or he or she may order a battery of more sophisticated tests intended to reveal the precise extent and location of blockages in your coronary arteries, if any; at which point your physician will probably advise you to "get some exercise."

Indeed, only in the instance of the most severe disease is your physician likely to advise you not to get more exercise, and in these cases, treatments such as angioplasty or bypass surgery might be used to help improve blood flow to the heart muscle, and then your physician will probably advise you to exercise to prevent future problems.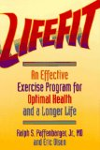 Continue Learning about Types Of Exercise


Exercise provides many health benefits - from fitness to increased physical and mental energy. In order to prepare yourself for a exercise routine, you need to research which exercise is right for you and how to fit a new exercise ...
e program into your daily schedule.
More