Abduction is defined as the movement of a body part, specifically the limbs and digits away from the body's side. So an abduction exercise would be the moving of a limb away from the body. The shoulder side raise and the side lying leg lift are two examples of abduction exercises. The shoulder side raise is performed standing with arms at the side. With a light weight in the hand slowly raise your arms to the side until they are pointing straight out, hold for 1 second and slowly return to the starting position.
For leg abduction exercises, lie on your side on the floor. Keeping your knee straight raise the top leg up to about 45 degrees, hold then slowly return to the starting position. Perform these exercises 3 sets of 12 repetitions.
Here's how to do a leg abduction exercise:

1. While lying on your side, brace your abdominal muscles.

2. Bend your lower leg forward at the hip and support your trunk with your upper arm

3. Raise your upper leg off the floor and behind your body. Do not let your trunk sag backward.

4. Concentrate on keeping your core engaged, and feel this in your buttocks.

5. Repeat the leg lift ten times, then switch to the other side.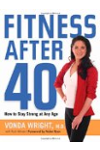 More About this Book
Fitness After 40: How to Stay Strong at Any Age
It's one of the undeniable facts of life. After we reach a certain age, our bodies change. No matter how fit we may have been at 20, we're very different people after 40. But growing older doesn't...
Continue Learning about Types Of Exercise


Exercise provides many health benefits - from fitness to increased physical and mental energy. In order to prepare yourself for a exercise routine, you need to research which exercise is right for you and how to fit a new exercise ...
e program into your daily schedule.
More