Get the Most Out of Winter Walking
Don't let cold weather stop you from burning calories and having fun with friends.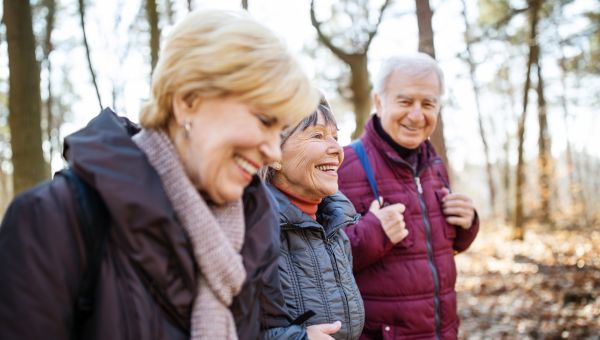 1 / 5
Trying to get in shape? You can walk yourself to better health. Studies suggest that regularly walking outdoors can lower your risk of serious conditions such as heart disease, hypertension, stroke and even depression. You don't have to wait for warm weather, either. Check out these ways to stay active and safe during chilly winter walks. Be sure to talk to your healthcare provider before starting a new exercise routine. 2 / 5
Find someone you can rely on
Walking with others can make fitness fun and social. So, your first step should be to find a group or buddy who is willing to commit to regular walking. Whether it's a coworker, close friend or family member, knowing you have someone counting on you can help you brave the cold and make walking a year-round habit. 3 / 5
Don't skip a scarf
Scarves aren't just for covering your neck. Having a facial covering can protect your lungs and help you avoid picking up a virus. Cold and flu viruses love cold, dry weather, so placing a scarf or mask over your nose and mouth can help keep in moisture to warm the air before you inhale. Another plus: Since your head and face are five times as sensitive to cold as other body parts, a scarf can retain heat to keep you warmer longer. 4 / 5
Have a plan b
Research shows that walking outside has great physical and mental benefits. A scenic stroll can work as a brain booster to improve memory and focus your mind.
If it's too cold, wet, icy or windy to walk with your buddy or group outside, have a backup plan. It may be staying at home on your own treadmill or waiting for a day with better weather. As much as you may want to walk, it isn't worth potentially slipping and falling on ice. 5 / 5
Grab your shades
Too much fun in the sun can harm your eyes in the summer—and the sun can do just as much, or even more, damage in the winter. That's because the sun sits lower in the sky during the colder months, and icy or snowy conditions can reflect harmful ultraviolet (UV) rays. An excess of reflected sunlight over time may lead to vision loss and other degenerative eye conditions, such as glaucoma.
Protecting your eyes is easy: Next time you're headed out the door for your group walk, remember your sunglasses. When you buy a new pair, look for a sticker or tag indicating they block 100 percent of UV rays. Replay Slideshow
Slideshow sources
ScienceDaily.com. "Group walking cuts risk of life-threatening conditions." January 20, 2015. Date accessed June 3, 2021.
Texas Heart Institute. "Cold-Weather Exercise." 2021. Accessed June 3, 2021.
American Academy of Ophthalmology. "How to Choose the Best Sunglasses: Six Things to Consider." April 30, 2015. Accessed July 6, 2021.
HealthyChildren.org. "10 Reasons Kids Should Wear Sunglasses in Winter." January 22, 2016. Accessed July 6, 2021.