Exercise leads to an increased production of antibodies and T-cells, both of which help the immune system by hunting down and killing antigens. Exercise also increases happiness, and studies show that happy people are more resistant to illness. But don't overdo it: Intense exercise actually weakens the immune system in the recovery period after such exertion, leaving you susceptible to germs.
Exercise will boost your immune system. Being active helps your body to stay active. When your body is alert and energized, it will be able to stay strong and fight off unwanted germs and bacteria which will help prevent getting sickness such as your common cold.
Researchers at the University of Washington showed that regular, moderate intensity exercise (like brisk walking) helps improve your resistance to the common cold. In their study, 115 sedentary and overweight women were assigned to do either 45 minutes of moderate intensity exercise or 45 minutes of stretching 5 days weekly for one year. Before starting the study, women in both groups reported having the same number of colds. On average, women exercised about three and one-half days per week during the year of the study. Over the year, women doing moderate exercise experienced a modestly decreased risk of having a cold, while colds increased slightly in those doing only stretching. During the final three months of the study, the risk of colds was over three times higher among women doing just stretching compared with those doing daily aerobic exercise. So get exercising and give your tissue box a rest!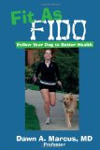 More About this Book
Fit As Fido: Follow Your Dog to Better Health
Let your dog teach you to live a happier, healthier, and more fulfilling life! Companionship with your pet can be used as a means and a motivator to increase your own physical and mental fitness....
Continue Learning about Types Of Exercise


Exercise provides many health benefits - from fitness to increased physical and mental energy. In order to prepare yourself for a exercise routine, you need to research which exercise is right for you and how to fit a new exercise ...
e program into your daily schedule.
More