NASM recommends undulating periodization. With this type of training you mix high-intensity workouts with low intensity longer duration workouts. For example, you can do 20 second repeated sprints on a bicycle for 10 minutes then follow that with a 10 minute jog. Furthermore, you can do high intensity short-duration exercise on Monday then Slow, aerobic exercise on Wednesday. The more you alternate the workouts the more confused the body gets. This type of training prevents boredom and continually challenges the neuromuscular system creating optimal adaptations both physically and mentally.
The ideal exercise plan for peak physical and mental performance would be a total-body routine that includes aerobic training such as brisk walking, weight training for strength, and some complex activity that requires continual learning or refinement of skills. Even better, do at least some of this in a social context for the benefits of staying connected with others. Add continuing education, community involvement, and the like for additional benefits. Learn a new language, take up an instrument, join a book discussion group, or enroll in extension classes at the local college.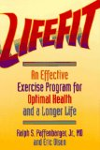 Continue Learning about Types Of Exercise


Exercise provides many health benefits - from fitness to increased physical and mental energy. In order to prepare yourself for a exercise routine, you need to research which exercise is right for you and how to fit a new exercise ...
e program into your daily schedule.
More