There is no set routine of exercises you need to do to remain healthy. Make sure you do something for an hour every day for your heart, and every other day for your muscles. For your heart, walking is great as a start. You can also incorporate resistance training by adding lunges and push-ups. As an example, if you work, take a 10 minute break, and rather than grab a bite from the vending machine, go for a walk around the building! Taking a walk every afternoon will add up over time.
Here are afternoon routine exercises:
Midday energy boost: three sets of ten pranic breaths, followed by the first two Mentalphysics breathing exercises (Balancing Breathing and Rapid Turtle Breathing)
Specific remedies, as needed
Cut cords, as needed
Practice or apply as needed:
Hand sensitivity
Scanning, sweeping, energizing practice
Direct clearing techniques
Special techniques (for example, work/house cleansing, closing and strengthening aura)
Specific healing remedies
Dietary recommendations
Physical exercise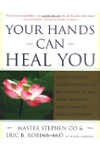 Continue Learning about Types Of Exercise


Exercise provides many health benefits - from fitness to increased physical and mental energy. In order to prepare yourself for a exercise routine, you need to research which exercise is right for you and how to fit a new exercise ...
e program into your daily schedule.
More