What types of conditioning do track and field throwers do during the year?
Track and field throwers, such as shot put and javelin athletes, run to keep their metabolism active and their cardiovascular system healthy. The more cardiovascularly fit the thrower is, the more energy and stamina the thrower will have in the weight room and on the track. Along with keeping the thrower's metabolism active, running helps reduce body fat, which slows the thrower down in the ring and on the runway. Speed work, or sprinting, improves the foot speed and agility for a thrower in the ring, while sprinting up stadium stairs helps develop coordination and explosive power. Sprinting and running are very important pieces in a thrower's workout and must be trained and developed daily to ensure the desired performance results.
Continue Learning about Track & Field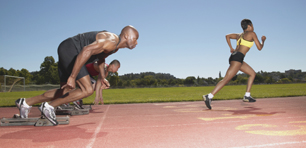 Track and Field tests many aspects of fitness. Speed, balance, power, acceleration, and endurance are all important skills for track athletes. Proper stretching, practice, and hydration can help prevent injuries that occur on the ...
track.
More