A growing number of researchers are finding a link between social media websites like Facebook and Myspace and antisocial narcissistic behavior among certain users.

If there is a growing narcissistic streak among teens and young adults, let's not put all the blame of social networking sites. After all, there are 150 million plus Facebook and Myspace users and not all are narcissists (or so I hope not). A social network is a great place for a teen who feels a bit more entitled to draw attention to himself, self-promote and show the world just how great he is.

But let's not put all the blame on Facebook for how our kids are turning out. In that regard, I fear we have only ourselves to blame. The more probable causes to the dawn of the self-anointed kid is a parental style that pushes too much entitlement, too many trophies too soon, too much "me-me-me," too much "center stage" and not enough good ol' "nos" and focusing on "them."

Researchers also point out that a celebrity-saturated culture that emphasizes the rich and famous is another culprit along with the breakdown of face-to-face connection, and a society that seems too often to be under-stressing those good old homespun virtues like kindness, cooperation and helpfulness.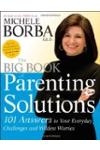 Continue Learning about Teens (12-18)