When stress hits, cortisol hormone tells our brains that we are hungry, so we then seek out food. "Stress," by the way, doesn't have to be the kind we experience while traversing a highway to make our exit. Eating a box of chocolates or a pint of premium ice cream when you're sad, frustrated, angry, and moody -- all of which the body can interpret as being stressed -- has its reasoning. Fatigue born out of sleep deprivation and a caffeine addiction also causes the body to cry out for energy. These cries come first for carbohydrates, the body's preferred source of energy, thanks to cortisol's message to our brain that demands sugary, fatty foods -- all the wrong foods for stopping the cycle. Rich, sugary foods don't do much for us but contribute to insulin swings, poor blood-sugar balance, as well as extra pounds, potbellies, worse moods ... and do we need to mention low energy?

What's more, the usual culprits -- chips, cookies, my kid's ice cream -- register in our brain's reward center in ways that make us crave them even more. When we give in, what we ingest dictates how the body will respond from there. We usually don't choose well, and overconsume when we are seeking carbs for energy. If we choose a sugary carb with fat, the combo can actually override our brain's satiety mechanism and we will keep eating (think ice cream, chips and guacamole, or cupcakes with icing).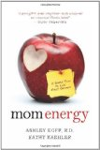 More About this Book
Mom Energy: A Simple Plan to Live Fully Charged
       From celebrated dietitian Ashley Koff and fitness trainer to the stars Kathy Kaehler comes Mom Energy, an exciting new way for moms to tap into their own natural and renewable sources of...
Continue Learning about Stress