Breathing does resume its natural state once the fear or the stress is gone, it tends to not quite go back to its optimum state - especially if you get scared or stressed a lot. When the emotional wind gets knocked out of us, it often feels safer to shut down the gut a little bit, to breathe just a little less fully.
So unless you've had a perfect life, you probably aren't breathing fully. If you came from a totally functional family and your mom and dad and every man or woman you ever loved always loved you back and if you never were scared of heights or Son of Sam or anything like that, maybe you don't have a breathing problem. But so far, I haven't met anyone who had a perfect emotional batting average.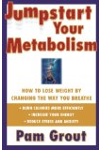 Continue Learning about Stress

It is not uncommon for people to experience stress and anxiety during select periods in their lives. Having a positive attitude, taking a balanced approach to life's ups and downs, and using relaxation exercises are just some of t...
he ways that people can alleviate stress and anxiety.
More