David Sjostrand, NP, from West Valley Medical Group - Wilder, says a regular routine can help you cope with stress because you know what to expect. Learn more about having a routine in this video.
Structure and routine reduce stress because your body goes into automatic pilot. For example, many people are challenged to find their keys when they're ready to leave home. Simply placing a hook near the door on which to hang the keys means one less thing to cause stress if you're running late in the morning. For women, it may mean only changing purses at the end of the week instead of during the week so they can take enough time to transfer all their important items from one purse to another. Finding your cell phone or the handset for your landline is also a common stressor that can be simply solved by returning the handset after all calls and keeping your cell phone in the same place. Routine reduces the anxiety of the new. This doesn't mean that we should never make changes or experience new things, but a daily routine requires less mental energy and means fewer unpleasant surprises and thus less unexpected stress.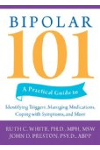 Continue Learning about Stress

It is not uncommon for people to experience stress and anxiety during select periods in their lives. Having a positive attitude, taking a balanced approach to life's ups and downs, and using relaxation exercises are just some of t...
he ways that people can alleviate stress and anxiety.
More