The key to mental de-stressing is to identify the areas of life in which you do or do not have control.
Make a list of ten things, situations or people that stress you. Do you see a common theme to your stressors?
If you are like most people, you blame everything outside of you for your stress and direct most of your precious time and energy into fruitless efforts to control the uncontrollable. A short list of uncontrollables includes:
Time: Not enough, what happened in the past, worry about the future
Nature: Illness, aging, death, weather
Other people: what they think, feel, say or do
You have no control of anything outside yourself. You have total control of everything inside yourself. This does not seem earth-shattering until you look at daily reactions to what stresses you.
You reduce your stress when you put your time and energy into the one area where it will pay off, where you have total control and power to direct your life -- in you. Put your energy into knowing how you think and feel and making choices about what is important to you. This brings you the confidence and freedom of self-mastery.
Spending time and energy continuously striving to control what is out of your hands is frustrating and useless. The result is high stress. When you find yourself ceaselessly striving to change something outside of yourself with no results, it is time for an inner change.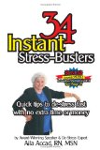 You can reduce stress about things you can't control by accepting the fact that there are things in life you can't change. Watch psychologist Erin Olivo, PhD, explain how accepting things in life as they are can be helpful in relieving stress.
Continue Learning about Stress