Focus your attention on the power to make choices. You can only make choices in the present moment. The past is a memory and the future has not arrived. You can make informed choices by learning from the past. Today's choices influence the future. Choosing consciously what you do in this moment is the most powerful and least stressful thing you can do.

There is a finite amount of time in a day. You control what you choose to do with it. Prioritizing what is most important to you is essential. Then it is easier to see what must either be delegated or dropped from the "to do" list. Life becomes much simpler, less stressful and more productive when you are realistic about what you can do and take responsibility for acting on that priority in the present moment. Focus on being aware of your choices today and notice how outcomes change. Ask yourself frequently, "What is the best use of my time right now?" The decisions you make moment by moment determine the direction your life takes. Choose your direction wisely today.

You are the only person who has control of your choices. Taking charge of your choices reduces stress because it puts you in the driver's seat of your life. Recognize that choosing not to take action is also your choice. In consciously choosing, you have the power to influence the direction and satisfaction of your future. You also influence, not control, everyone around you by the choices you make. Choices made in the past do not need to limit your current choices. Let go of judgments about the past and learn its lessons. In this way, you can be free to choose differently today.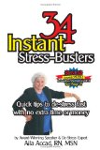 Continue Learning about Stress