Coping with stress has to do with our response to our environments. The degree of stress we have in response to environmental stressors is partly genetic but can be controlled when we learn behaviors that minimize its impact on our psyches, relationships, and bodies. Having bipolar disorder can be very stressful and creates anxiety that reinforces symptoms. But with psychotherapy and medications that reduce anxiety, those of us who have bipolar disorder can learn how to live in the present moment without worrying as much what might happen if we have an episode. When in the midst of an episode, we may feel anxious that it might result in a hospitalization. Though we may feel we have no control over whether or not that happens, learning to cope with our stress in a healthier way helps us focus more effectively on managing our symptoms, which reduces the likelihood of being hospitalized or having a severe episode.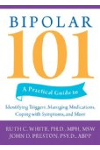 Stress is like lighter fluid for the fire that is bipolar disorder. Stress puts pressure on a system that is prone to ups and downs. That is why people with bipolar disorder have to be careful during periods of high stress and make sure they are getting the support they need, or limiting situations that add to their stress. Sometimes this means that a social life has to take a back seat to treatment, and that's ok… it will be there when you are ready. Hopefully, if you have already started to make friends, they will understand if you aren't available for the time being.

Knowing yourself and what coping skills work at different times can be especially helpful when you are feeling stressed. There are many stress management techniques out there -- discuss these with your treatment provider or go to the library or bookstore and look through any books available on the subject.
Continue Learning about Stress