A good stretch decreases stress and increases energy. Energy can become stagnant from sitting too long at your desk or in front of the computer or TV. All of your muscles can use stretching from time to time. Take a break when possible. Studies prove that workers who take a break increase productivity. Take a moment to stand up and stretch. Stretch your fingers, arms, wrists, ankles, legs, toes, waist, neck and spine. The small investment in a moment or two of stretching will pay off in reduced stress, clearer thinking and increased productivity.

Stretching improves elasticity and mobility, which allows for relaxed movement and less tension. Resting the body and mind to a state of quiet opens the senses for more presence in the moment, creativity and peace. When you create some spaces in your day, you experience more of what is present and come up with creative solutions to stressful situations.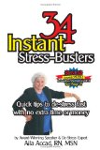 Stress restricts blood flow, causing tension in your muscles and lower back. Stretching stimulates receptors in the nervous system that decrease the production of stress hormones. The secret is to isolate the muscles that store tension by stretching the lower back, shoulders, and neck.
This content originally appeared on
doctoroz.com
Continue Learning about Stress

It is not uncommon for people to experience stress and anxiety during select periods in their lives. Having a positive attitude, taking a balanced approach to life's ups and downs, and using relaxation exercises are just some of t...
he ways that people can alleviate stress and anxiety.
More