It is good that you are watching your son's recovery carefully. Right now, this sounds like a normal pattern for someone with a strep throat.

A strep throat infection causes fever, painful sore throat, stomach pain, headache, and swollen lymph nodes in the neck. Sometimes there can also be a sandpapery rash all over.

Lymph nodes can take days to a few weeks to get smaller in size. Lymph nodes have blood cells ("lymphocytes") that make antibodies to help fight off infections. When someone gets sick, the lymph nodes in that area of the body can get very swollen with the extra lymphocytes.

There are lymph nodes all over the body. The glands closest to the infection are usually the ones that get swollen. So, it makes sense that your son has swollen lymph nodes in his neck during a strep throat.

Strep throat can be serious if a child does not take all of the antibiotics prescribed by your child's doctor. For example, it can cause a heart problem called rheumatic fever.

If your son's lymph node is not decreasing in size over the next 3 weeks or persists for more than one month, contact his doctor.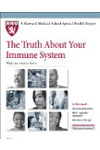 Continue Learning about Strep Throat