Strength training simply means performing against some type of resistance; this can be gravity like calisthenics, weight machines, cables, tubing, or free weights. Calisthenics like push-ups, pull ups, dips, prisoner squats, hand stands etc force the body to resist against the gravity of a certain percentage of the person's body weight ranging from 10% to over 100% depending on the position used and the movement. Strength can also be developed using rubber tubing, cables. Strength-training machines found t commercial gyms, and free weights like dumbbells and barbells. To gain strength the exercise simply needs to be hard enough and provide enough resistance to make more than 15-20 repetitions impossible to perform without rest. The resistance the muscles must overcome helps the body develop strength. To continue to develop strength the resistance must gradually get harder and heavier to continue to force the muscles to adapt. This can be accomplished by adding more weight or resistance, using more of your body weight or changing the leverage of your limbs to make the movement harder to do.

There are a lot of different ways to do strength training. It is not necessary to have access to a weight machine. Free weights -- such as dumbbells, exercise bands, and your own body -- are all excellent weights to carry. Some strength coaches actually prefer free weights and exercise bands over stationary machines because they require the lifter to engage the pathways between your brain and muscles to control and balance the weights. Don't forget: In this age of high-tech gym equipment, it can be highly effective to lift just your own upper body weight with push-ups and chin-ups and your lower body weight with short arc squats.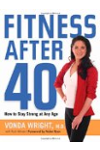 More About this Book
Fitness After 40: How to Stay Strong at Any Age
It's one of the undeniable facts of life. After we reach a certain age, our bodies change. No matter how fit we may have been at 20, we're very different people after 40. But growing older doesn't...
Continue Learning about Strength Training & Exercise