The first step in throwing the shot put is to remember that the legs, hips, and back do most of the work while the arm applies the finishing push that extends the ball out into the sector. The legs, back, and hips should receive the most amount of training to ensure proper results. When throwing the shot put, the athlete wants to hold the ball like a waiter holds a tray of drinks over their shoulder (hand flat and at shoulder height). The glide shot putter does not want to have any twisting or lateral movements during their throw, it is strictly a linear field event. When executing a standing throw, the athlete should imagine that they are squeezed into a two-foot wide alley (front and back) and rocking forward and backward are the only movements they have available. While holding the shot put like a tray of drinks, the athlete should rock back and forth (left foot to right foot). Just before the left foot hits the ground, the hips and right foot will turn toward the throwing sector and the right shoulder will shrug upwards. When the left foot hits the toe board, the right leg will drive and extend while the throwing arm will do the same. There should be a straight line between the right foot and the right hand upon release. When starting the glide, the athlete should assume the power (standing) position in the back of the ring, as if they were going to execute a standing throw. The athlete will then rotate 90 degrees and face the back of the ring. The shot put will be pressed against the neck, shoulder high, and held directly over the right knee. The athlete will then slightly fall backwards across the ring while simultaneously pushing off with the right foot and have it land directly under the right hip. The standing throw sequence will then take place and the throw will be complete.
Continue Learning about Sports & Athletic Performance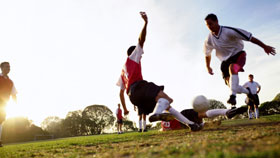 Whether you enjoy football, baseball, hockey or swimming, being in top physical shape will improve your athletic performance and protect yourself from injuries. Each sport comes with its own physical demands on your body. You may ...
need training for balance, flexibility or agility to help you perform at the top of your game.
More