FODMAPS stands for Fermentable Oligo-, Di- and Mono-saccharides And Polyols. Specifically, some of the dietary carbohydrates described by the term FODMAPS are lactose, fructose, fructans, polyols and galactans.

There are a number of factors that may explain why FODMAPS cause more troublesome symptoms for some people than for others. For example, individuals vary a great deal in how much lactase they produce, with half or more of adults having reduced lactase activity.

Lactase is the enzyme needed to digest the milk sugar lactose, which is one of the FODMAPS carbohydrates. Without it, undigested milk sugar is presented to the bacteria in the large intestine, where it acts as a source of food for them.

Fructose absorption also varies widely from one person to the next. For reasons that are not clear, up to one half of the adult population may malabsorb fructose. Also, the amount of other sugars, sugar alcohols, and certain amino acids in the meal affect how completely fructose is absorbed. It appears to be normal for humans to malabsorb fructose to some extent, especially if a large amount of fructose has been consumed. Unabsorbed fructose that is delivered to the large intestine can cause chaos when it is digested by the resident bacteria.

People with more adaptable bowels are not bothered by symptoms when consuming these foods unless they eat an unusually large portion, and may in fact use these foods deliberately to "stay regular." As the saying goes, "one man's meat is another man's poison." Those with less adaptable bowels may experience IBS symptoms after consuming these foods. In some individuals the nervous system serving the gut is more sensitive and responds with pain to gut distention.

On another note, some individuals have such a fast intestinal transit time that FODMAPS do not have a chance to be absorbed before being presented to the bacteria in the large intestine. Others have slow intestinal transit time. There is some evidence that constipation is associated with the presence of methane in the breath of affected individuals. Breath methane would likely be the result of methane-producing bacteria in the large intestine. It is not clear yet what this means, but it may somehow influence why some people with IBS have constipation and others do not.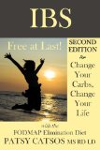 Continue Learning about Special Diets