One of the most common causes of itchy skin after a shower is direct contact with hot water. Hot water can cause your skin to dry excessively, causing itching. Other causes of itchy skin after a shower include:
frequent changing of soaps and shampoos, which contain chemicals that may irritate your delicate skin
frequent bathing or showering, which can strip your skin of natural oils
mildew that forms from the dampness of your shower area, which can cause you to develop dermatitis, a temporary skin irritation
To prevent itchy skin beforehand, use lukewarm water, install a water softener, stay away from foamy bathroom products and do not switch brands often. Apply essential oils or lotions before and after your shower.
Itching, burning and tingling of the skin after exercising and taking hot baths can be caused by a condition called "cholinergic urticaria." This is a sensitivity to sweat or heat. Symptoms are sometimes followed by an itchy rash.
This condition is more common in people with allergies, asthma and atopic dermatitis. People without these conditions can have cholinergic urticaria, too. There is also a rare form of cholinergic urticaria that is inherited.
Men and women can have this condition, but it seems to be more common in men. It is most common between ages ten and thirty. Episodes are usually brief. They can last from half an hour to an hour. In severe cases there may be abdominal cramping, diarrhea, headaches and other symptoms.
Cholinergic urticaria is a form of physical urticaria. "Aquagenic urticaria" appears in some people after exposure to water—both cold and hot. "Pressure urticaria" can appear after pressure is applied to the skin. People with one type of urticaria often have another type.
An oral antihistamine can help reduce the symptoms of urticaria. See your doctor if your symptoms get worse. And take care of your skin by using a mild, unscented soap. If your skin is dry, use an unscented moisturizer after you wash.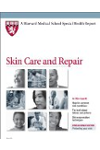 More About this Book
Harvard Medical School Skin Care and Repair
Where can you get authorotative advice on skin care? There's plenty of advice out there on TV, the internet and in the aisles of stores peddling skin care products. Despite the abundance of products...
Continue Learning about Skin Disorders