Boys are able to get a girl pregnant when they begin to produce sperm in their semen. This generally begins when they start puberty, which can be from ages 11 to 14. Until puberty begins, males are unable to get a female pregnant.

A girl usually ovulates 2 weeks before her period and this is the most frequent time she can become pregnant. However, a girl can ovulate any time especially during the teenage years when there are menstrual irregularities and therefore ovulation is not regular. Birth control is important at all times for protection.
As soon as a boy ejaculates, he is making sperm that can fertilize an egg. In other words, all guys are carrying a loaded gun in early puberty, and anytime it can shoot, it can deliver sperm. So, sex, even at a young age can result in pregnancy--hence the saying, "No glove, no love," until you're ready to have kids.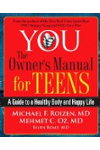 Continue Learning about Teen Perspective: Sexuality