The four phases of sexual response are as follows:

Desire. Also called lust or libido, desire is the wish for sex. A sight, sound, taste, touch, or smell may spark it. Or it may be ignited by a memory or fantasy. Desire may occur before any physical signs of sexual readiness take place in your body or in response to sexual stimulation. Desire often leads to arousal and orgasm, but this isn't always the case. Arousal can also lead to desire, and desire can linger on its own indefinitely.

Arousal. During arousal, blood floods into the genitals, triggering the man's penis to stiffen and the woman's labia, clitoris, and upper vagina to swell. Moisture begins seeping from the vaginal lining, creating lubrication. The vagina lengthens, the uterus rises, and the inner and outer lips pull apart, exposing the vaginal opening. The man's testicles pull closer to his body, and his scrotum becomes thicker. In both sexes, breathing and heart rate accelerate, muscles throughout the body tense, the skin flushes, and nipples become erect.

Orgasm. When muscle tension and genital engorgement peak, a series of rhythmic contractions occurs in the sex organs. The contractions force the congested blood out of the tissues and back into circulation. Along with this comes an abrupt release of muscle tension and a pleasurable sensation. In a man, penile contractions expel semen out of the urethra; this is known as ejaculation.

Resolution. Following orgasm, heart rate and blood pressure gradually return to their normal levels. In a man, the penis becomes flaccid; in a woman, sex organs gradually return to their unaroused state. After orgasm, it takes some time before an individual can have another orgasm. For a woman, this stage may pass quickly, allowing her to have multiple orgasms in a short span of time if stimulation continues. A man generally needs to wait longer -- from several minutes to hours or days, depending on his age -- before he is able to ejaculate again.

While it's possible to identify these discrete parts of the sexual response cycle, not every sexual encounter needs to progress through all four phases in an orderly manner. Nor must the process necessarily include orgasm. This is true for both women and men.
The pioneering sex researchers William Masters and Virginia Johnson first developed a four-stage model for understanding sexual response back in the 1960s, and it still holds true today:
Excitement. Excitement starts with stimulation, whether physical (a partner's touch, masturbation, etc.) or mental and emotional (fantasy, thoughts about your partner, etc.). Whatever the cause, for ladies, stimulation causes the blood vessels in the vagina and clitoris to relax and fill with blood. In guys, the spongy tissues in the penis expand and fill with blood, and he gets hard. In both men and women, the nipples, earlobes, lips, and even nostrils also swell and darken, and both heart rate and breathing quicken and blood pressure rises.
Plateau. Excitement tends to plateau or level off before a person gets even more aroused. As you approach orgasm, your abdomen and thighs get tense, your hands and feet clench, and your breathing becomes even quicker and more uneven. At this point, a guy will also have a full erection.
Orgasm. For many people, this third stage is the best part of sex. During orgasm, all the tension that's been building up is finally released. The physical signs that started in the plateau phase -- higher blood pressure, rapid breathing, muscle contractions -- kick into overdrive.
Resolution. The final phase of sexual response occurs after an orgasm. For most men, this is a time to relax: The tension seeps out of his muscles, his blood pressure sinks, and his excitement dissipates. For some women, meanwhile, the first orgasm is just the start.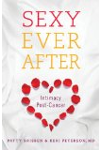 More About this Book
Sexy Ever After: Intimacy Post-Cancer
Recent studies show that 40-100 percent of men and women who have been treated for cancer have experienced some level of sexual dysfunction. Sexy Ever After: Intimacy Post-Cancer will help you...
Continue Learning about Sex and Relationships