The pioneering sex researchers William Masters and Virginia Johnson first developed a four-stage model for understanding sexual response back in the 1960s, and it still holds true today:
Excitement. Excitement starts with stimulation, whether physical (a partner's touch, masturbation, etc.) or mental and emotional (fantasy, thoughts about your partner, etc.). Whatever the cause, for ladies, stimulation causes the blood vessels in the vagina and clitoris to relax and fill with blood. In guys, the spongy tissues in the penis expand and fill with blood, and he gets hard. In both men and women, the nipples, earlobes, lips, and even nostrils also swell and darken, and both heart rate and breathing quicken and blood pressure rises.
Plateau. Excitement tends to plateau or level off before a person gets even more aroused. As you approach orgasm, your abdomen and thighs get tense, your hands and feet clench, and your breathing becomes even quicker and more uneven. At this point, a guy will also have a full erection.
Orgasm. For many people, this third stage is the best part of sex. During orgasm, all the tension that's been building up is finally released. The physical signs that started in the plateau phase -- higher blood pressure, rapid breathing, muscle contractions -- kick into overdrive.
Resolution. The final phase of sexual response occurs after an orgasm. For most men, this is a time to relax: The tension seeps out of his muscles, his blood pressure sinks, and his excitement dissipates. For some women, meanwhile, the first orgasm is just the start.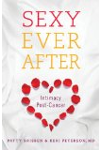 More About this Book
Sexy Ever After: Intimacy Post-Cancer
Recent studies show that 40-100 percent of men and women who have been treated for cancer have experienced some level of sexual dysfunction. Sexy Ever After: Intimacy Post-Cancer will help you...
Continue Learning about Sex and Relationships