As people grow increasingly aroused, first their breath will deepen and their respiration rate will increase, like they've been running, then they'll begin to hold their breath as their muscles clench rhythmically. This is a necessary and universal predecessor to orgasm. You'll hear rhythmic gaspy-chuffy noises and see their bellies rise and fall sharply with the sounds. Don't mistake noisy for intense. Many people are nearly silent at orgasm. When a person goes all quiet and still but is tense, that's a sign of a high level of arousal.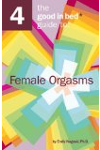 More About this Book
The Good in Bed Guide to Female Orgasms
Want to learn how to achieve 487 different kinds of orgasms?If so, you're reading the wrong guidebook. Despite what many in the media would have you believe, there's no such thing as a rainbow...
Continue Learning about Sex and Relationships